JCI Construction Corp is a masonry contracting company run by John Cabeca. The company has 4 teams with 4 foremen (team leaders). Each foreman has been with the company for more than 10 years. The majority of team members have been with the company for 10+ years. We are fully insured and licensed in New York and Connecticut. We own our own equipment rather than rent it, which means your job won't be delayed for equipment that doesn't arrive when it should.
Traditional Portuguese Stonemason Quality
John comes from a family of builders. His father started a construction company in Angola, then left during the country's civil war and started a masonry contracting business in Portugal. John left Angola with his father when he was 12, and started working in the business when he was 18. He learned his work ethic and basic skills from his father, and perfected his craft here in the states.
His father's construction stood the test of war in Angola. Here is a stone from one of the buildings he built in Angola: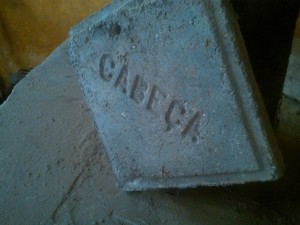 Real Integrity, and What That Means for You
It may be going out of style these days, but John has unbending integrity. What does that mean in practice for you as the client?
He will not cut corners, even on the materials and work that you won't be able to see once the job is done.
He will not add on additional costs over what you agreed to pay (unless of course you change the job after you agree to a price).
He will fix any work done incorrectly on his own dime, in the unlikely event anything is done incorrectly.
What it really means is that your satisfaction is guaranteed. We aren't satisfied until our clients are fully satisfied. We've built our business on referrals, and that has only been possible because we treat each client's job like we're working on our own home.
We look forward to earning your trust and wowing you with a job that exceeds your expectations. Contact us to get an estimate or with any questions! Or see our Contractor Comparison page for more info on choosing a contractor.
We'll leave you with a picture of a couple of our guys working on a beautiful fireplace: